Barco Canvas visualization solutions
Use of canvas material in the creation of innovative and visually appealing display systems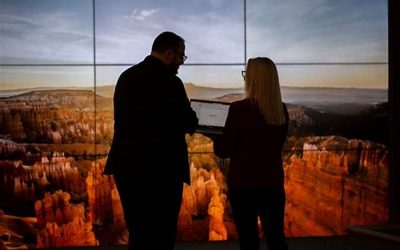 Canvas display solutions refer to the use of canvas material in the creation of innovative and visually appealing display systems. These solutions provide versatile and customizable options for showcasing graphics, artwork, promotional messages, and more in various settings, such as trade shows, exhibitions, retail spaces, and events.
Canvas display solutions offer several advantages that make them popular choices for businesses and individuals looking to create impactful displays. 
Portability and Easy Setup: Canvas displays are often lightweight and designed for easy assembly and disassembly. They utilize frameworks made of lightweight materials like aluminum or plastic, allowing for hassle-free transportation and quick setup. This portability makes them ideal for businesses that frequently participate in trade shows or events and require displays that can be easily moved and set up in different locations.

Customization Options: Canvas displays come in a wide range of sizes and shapes, providing flexibility to match specific display requirements. They can be customized with vibrant graphics, logos, and branding elements, allowing businesses to create visually captivating displays that effectively communicate their message or showcase their products.

Versatility: Canvas displays offer versatility in terms of their applications. They can be used as backdrops, banners, signage, or even entire booth structures. With the ability to be printed on both sides, canvas displays allow for maximum exposure and engagement from different angles.

Durability: Canvas material used in display solutions is typically durable and long-lasting. It can withstand regular use, transportation, and even outdoor conditions when appropriately treated. The fabric's resilience ensures that the display retains its quality and impact over time, making it a cost-effective choice for businesses.

Reusability and Sustainability: Many canvas display solutions are designed with reusability in mind. The fabric can be easily replaced or updated with new graphics or messaging, allowing businesses to refresh their displays without investing in entirely new systems. This reusability reduces waste and contributes to sustainability efforts.

Enhanced Aesthetics: Canvas displays often provide a visually appealing and professional look. The fabric has a premium texture that adds an element of sophistication to the display, making it stand out among other types of materials.
Visual communication plays a critical role in capturing attention and delivering impactful messages. When it comes to creating stunning display solutions, Barco stands at the forefront of innovation. With their cutting-edge canvas display solutions, Barco offers businesses and organizations the tools to captivate audiences and leave a lasting impression. As a leading provider and installer of Barco canvas display solutions, Amaze Technologies brings these extraordinary visual experiences to life.
As the leading provider and installer of Barco canvas display solutions, Amaze Technologies has established itself as a trusted partner for businesses seeking cutting-edge visual solutions. With a team of highly skilled professionals, Amaze Technologies brings expertise, creativity, and technical know-how to every project.
Consultative Approach: Amaze Technologies takes a consultative approach to understand each client's unique needs and objectives. Their team works closely with businesses to design customized Barco canvas display solutions that align with their vision and enhance their brand presence.
Professional Installation: Amaze Technologies ensures seamless installation of Barco canvas displays, meticulously handling every aspect of the process. Their experienced technicians carefully mount and calibrate the displays, guaranteeing optimal performance and longevity.
Maintenance and Support: Amaze Technologies goes beyond installation, providing ongoing maintenance and support for the Barco canvas display solutions. Their dedicated team offers regular maintenance, software updates, and troubleshooting, ensuring that the displays continue to deliver exceptional performance.
Innovative Applications: Amaze Technologies explores innovative applications of Barco canvas display solutions, leveraging the technology to create immersive environments, engaging retail experiences, interactive educational setups, and more. Their expertise in blending creativity with technology allows them to push the boundaries of visual storytelling.
Control Rooms: Barco Canvas can be used in command and control centers, such as those found in government facilities, military operations, and utility companies. It allows operators to monitor and control multiple sources of information simultaneously, facilitating efficient decision-making and response management.

Meeting Rooms: Barco Canvas is suitable for conference rooms and meeting spaces where multiple participants need to share and collaborate on visual content. It enables seamless content sharing, annotation, and real-time collaboration on large display systems, enhancing communication and productivity.

Event Venues: Barco Canvas can be used in event venues, such as auditoriums, stadiums, and concert halls. It allows for the creation and management of dynamic, high-resolution visual content, including live video feeds, presentations, and interactive elements, to enhance the overall event experience.

Broadcast and Media Production: Barco Canvas finds applications in television studios, post-production facilities, and broadcast control rooms. It enables video wall management, real-time content manipulation, and efficient distribution of visual assets, enhancing the production workflow and improving content delivery.

Digital Signage: Barco Canvas can be used in retail environments, airports, malls, and other public spaces to manage and display digital signage content. It offers capabilities for content scheduling, remote management, and interactive features, allowing for engaging and dynamic displays.

Simulation and Training: Barco Canvas is used in simulation and training facilities, such as flight simulators, military training centers, and industrial training environments. It provides a platform for creating and managing realistic visual scenarios, facilitating immersive training experiences.
Whether you're looking for a Canvas visualization solutions, Barco LED solutions offer high image quality and versatility. If you're ready to take your visual experiences to new heights, it's time to make an enquiry for Barco LED solutions. We Amaze Technologies is the leading  provider & installer of Barco LED solutions In Dubai,UAE. Discover how these cutting-edge display solutions can elevate your business and captivate your audience. Contact us today to explore the endless possibilities of Barco LED technology.