Revolutionizing Wireless Presentation Solutions for Seamless Collaboration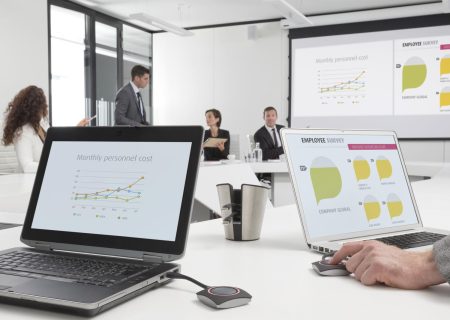 The Barco ClickShare Present is a cutting-edge solution designed to simplify the process of sharing content during meetings. It eliminates the need for cables, adapters, and complex setups, allowing presenters to effortlessly connect and share their screens with just a click of a button. With its user-friendly interface and seamless integration, ClickShare Present ensures a hassle-free and professional presentation experience.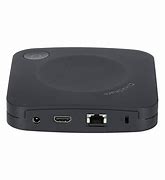 ClickShare C‑5
ClickShare C‑10
Barco ClickShare eliminates the need for tangled cables and complicated setup processes. With ClickShare, anyone can wirelessly share their screen or content from a laptop, tablet, or smartphone with just a single click. Its intuitive nature ensures that anyone, regardless of technical expertise, can effortlessly connect and share content, thereby saving valuable time during meetings or presentations.ClickShare offers centralized management options, allowing IT administrators to monitor and manage multiple ClickShare units across different locations from a central control panel. This simplifies device management, firmware updates, and troubleshooting, leading to improved efficiency and reduced maintenance efforts.
One of the standout features of Barco ClickShare present is its ability to enable multiple participants to share their content simultaneously on a single display. This feature promotes dynamic collaboration, allowing team members to contribute their ideas, insights, and data in real-time. Whether it's a brainstorming session, sales pitch, or training workshop, ClickShare empowers everyone to engage actively, fostering a more inclusive and productive meeting environment.
Barco ClickShare present  seamlessly integrates with existing audiovisual systems, making it an ideal solution for businesses that have invested in their AV infrastructure. Whether it's a projector, monitor, or video conferencing system, ClickShare is compatible with a wide range of devices, ensuring a hassle-free integration process.
ClickShare present enables multiple users to share content simultaneously on the same screen. It promotes collaboration by allowing participants to switch between different presentations effortlessly. This feature encourages engagement and fosters interactive discussions during meetings or presentations.
ClickShare present significantly reduces setup time and eliminates technical glitches that often arise with traditional wired connections. It allows you to start your presentations promptly, maximizing meeting efficiency and productivity.
Whether you're looking for a ClickShare Present, Barco LED solutions offer high image quality and versatility. If you're ready to take your visual experiences to new heights, it's time to make an enquiry for Barco LED solutions. We Amaze Technologies is the leading  provider & installer of Barco LED solutions. Discover how these cutting-edge display solutions can elevate your business and captivate your audience. Contact us today to explore the endless possibilities of Barco LED technology.