barco Corporate lobby visual Display Solutions
Creating an Impressive First Impression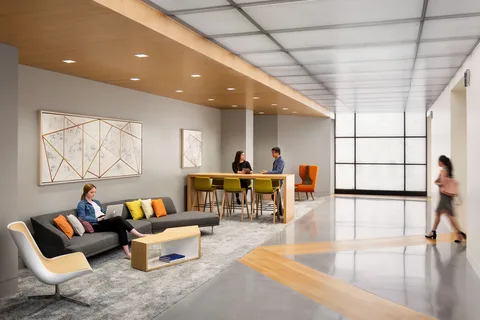 In today's competitive business world, corporations are constantly seeking innovative ways to captivate their clients, partners, and employees. One such avenue is through the use of visual display solutions in corporate lobbies. These technological marvels, ranging from digital signage to interactive video walls, have become a ubiquitous feature in modern corporate environments.Corporate lobbies serve as the gateway to a company's brand image and culture. By implementing visual display solutions, businesses can instantly create a lasting impression on visitors. Large-scale video walls or immersive multimedia displays showcasing a company's achievements, values, and products can convey professionalism, innovation, and a forward-thinking approach. 
Barco is synonymous with state-of-the-art visual display solutions that push the boundaries of technology. From high-resolution video walls to immersive projection systems, Barco's products offer stunning visual experiences that captivate audiences in corporate lobbies. The vivid colors, exceptional image quality, and seamless integration provided by Barco's solutions enhance the overall impact and create an immersive environment for visitors.As the leading provider and installer of Barco corporate lobby visual display solutions, Amaze Technologies has played a pivotal role in revolutionizing the way companies showcase their brand identities. Amaze Technologies brings extensive expertise, technical know-how, and a deep understanding of Barco's products to the table, ensuring seamless implementation and optimal performance.
One of the key advantages of Barco corporate lobby visual display solutions is their versatility and scalability. Amaze Technologies works closely with businesses to understand their unique needs and tailors the implementation to align with their brand identity and messaging. Whether it's incorporating custom branding elements or designing interactive touchscreens, Amaze Technologies ensures that the visual display solutions amplify a company's individuality and effectively communicate its values.
Barco's visual display solutions, installed by Amaze Technologies, transform corporate lobbies into engaging and immersive spaces. Through the clever use of technology, such as augmented reality, interactive displays, and motion sensors, visitors can embark on interactive journeys that showcase a company's products, services, and achievements. These immersive experiences not only leave a lasting impression but also foster a deeper connection between the visitor and the brand.Barco's commitment to innovation is matched by Amaze Technologies' dedication to staying at the forefront of technological advancements. Together, they bring the latest breakthroughs in visual display technology to corporate lobbies. By seamlessly integrating advanced features like real-time data visualization, dynamic content management, and intelligent automation, businesses can deliver dynamic and personalized experiences to their visitors.
Whether you're looking for a Corporate lobby visual Display Solutions ,Barco LED solutions offer high image quality and versatility. If you're ready to take your visual experiences to new heights, it's time to make an enquiry for Barco LED solutions. We Amaze Technologies is the leading  provider & installer of Barco LED solutions in Dubai,UAE. Discover how these cutting-edge display solutions can elevate your business and captivate your audience. Contact us today to explore the endless possibilities of Barco LED technology.