Structured Cabling Dubai – Network Cabling
Structured cabling In Dubai- Amaze Technologies
Design and Consultation: We help in designing a structured cabling system that is tailored to meet the specific needs of your business through the detailed assessment of your current and future needs, and creating a design that is scalable and flexible.

Installation: We have a team of certified and experienced technicians for the installation of cabling systems.

Testing and Certification: It is necessary to test the system to ensure that it is functioning correctly and meets all the required standards. We will also provide certification to confirm that the installation has been done correctly.

Maintenance and Support: Amaze Technologies offers maintenance and support services to ensure that your cabling system continues to operate efficiently. This includes regular checks and updates, as well as troubleshooting and repairs if necessary.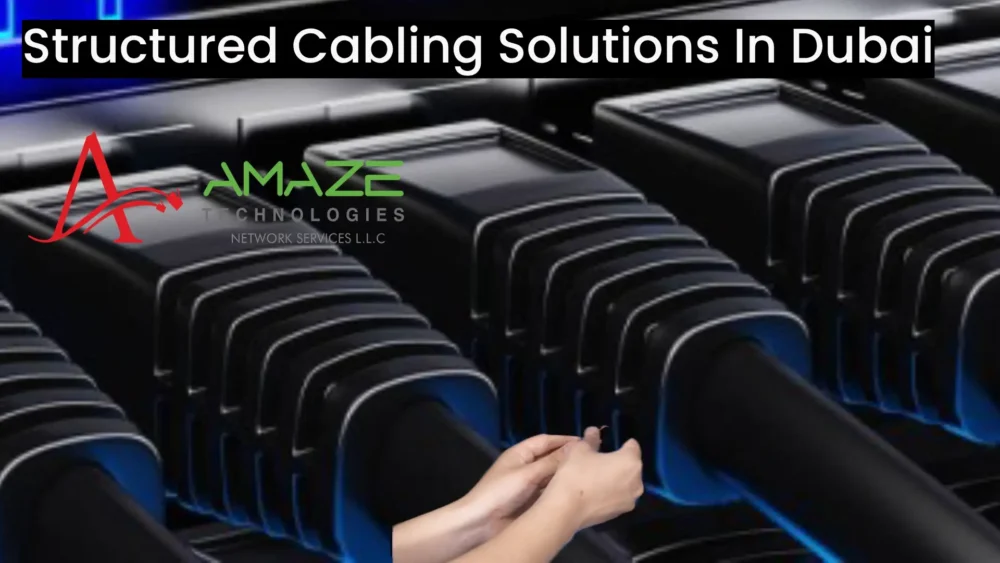 structured cabling solutions -Common Cost Factors
Structured cabling solutions are essential for establishing a reliable and organized network infrastructure within a building or facility. The cost of implementing structured cabling may change significantly depending on several factors. 

Cable Type and Quantity: The type of cables used (e.g., Cat 5e, Cat 6, Cat 6a, Cat 7, fiber optic) and the length of cable runs impact costs. Fiber optic cables are generally more expensive than copper cables.

Cable Routing and Distance: Longer cable runs require more cable and labour for installation. Additionally, the routing of cables through walls, ceilings, and floors can affect costs, especially if it involves challenging or specialized installation techniques.

Number of Data Drops: The number of data drops or network connections required in each room or location will influence the cost. Each drop typically requires cable, jacks, and faceplates.

Network Equipment: The cost of switches, routers, patch panels, and other network equipment is a significant part of the structured cabling budget.

Labor Costs: Labor costs for installation, termination, testing, and certification of the cabling system can vary depending on the complexity of the job, location, and labour rates in the region.

Cable Testing and Certification: Ensuring that the cabling system meets industry standards and is properly tested and certified can add to the cost. This step is essential to ensure performance and reliability.

Cable Management and Accessories: Cable trays, racks, cabinets, and cable management solutions are necessary for organizing and protecting the cabling infrastructure, and they contribute to the overall cost.

Upgrades and Future-Proofing: Planning for future growth and technology upgrades may require additional capacity and can increase initial costs.

Compliance and Regulations: Compliance with local building codes, industry standards, and regulations can impact costs, as adherence to these standards is essential for safety and reliability.

Site Conditions: Existing site conditions, such as the need for demolition, renovation, or working in environmentally sensitive areas, can influence costs.

Warranty and Support: Extended warranties, maintenance contracts, and ongoing support services can add to the overall cost but are important for long-term reliability.

Vendor Selection: Different structured cabling vendors and contractors may offer different pricing structures, quality of materials, and levels of expertise, which can affect costs.

Project Timeline: for a large-scale project, installation may require more labour and resources, potentially increasing costs.

Geographic Location: Labor and material costs can vary significantly by the demographic region or country, affecting the overall cost of the project.

Size and Complexity of the Network: The larger and more complex the network, the more cabling, components, and labour will be required. Multiple floors, buildings, or data centers will increase the cost.
Structured network cabling is an organized approach to a cabling infrastructure. Instead of deploying multiple cables for different purposes at different times, structured cabling offers a comprehensive system in which every piece of equipment is interconnected. This ensures efficient data transmission, reduces maintenance challenges, and future-proofs the infrastructure for upgrades or expansions.
We adequately provide you with cabling infrastructure within buildings/offices that ensures clear data or voice communication and seamless transfer of huge data to desktops, data centers, and other destinations. Our seasoned technicians will always be on service to support you with design, setting up, and installation to ensure seamless communication.
Why Choose Amaze Technologies as a best structured cabling company in dubai?
 A reliable and efficient networking infrastructure is mandatory for the success of the entire organization. Whether you're a small business or a large enterprise in Dubai, the foundation of your IT network determines the efficiency, productivity, and scalability of your operations. This is where structured cabling comes into play. Among the various options available in the market, Amaze Technologies stands out as the preferred structured cabling company. 
1. Proven Expertise and Experience: Amaze Technologies boasts years of experience in the structured cabling industry. Till this time the company has successfully installed and managed intricate cabling systems for various industries, from healthcare and finance to retail and hospitality.
2. Comprehensive Services: Our company offers an end-to-end solution, which means you don't have to juggle multiple vendors. From design and installation to maintenance and troubleshooting, Amaze Technologies provides all-inclusive services, ensuring seamless and consistent performance as a structured cabling company.
3. Use of Advanced Technology: Amaze Technologies stays abreast with the latest advancements in the structured cabling domain. By leveraging state-of-the-art equipment and techniques, we ensure that clients get a future-proof infrastructure that can cater to evolving technological demands. By using advanced technology for structure cabling our company leads a dominant position in the field structure cabling companies in Dubai
4. Customized Solutions: No two businesses have identical needs. Recognizing this, Amaze Technologies offers customized solutions tailored to the specific requirements of each client. This ensures optimal performance, scalability, and cost-efficiency.
5. Highly Trained Professionals: At the heart of Amaze Technologies is its team of skilled professionals. These experts undergo regular training and certification programs, ensuring they are updated with the latest industry standards and best practices.
6. Focus on Safety and Compliance: Being based in Dubai, Amaze Technologies is well-acquainted with the local regulations and safety standards. We place utmost importance on adhering to these norms, ensuring that the installations are safe, compliant, and of the highest quality.
7. Transparent Pricing: As a leading structure cabling company in Dubai, one of the hallmarks of Amaze Technologies is its transparent pricing strategy. Clients are provided with clear and detailed quotations, ensuring there are no hidden charges or unexpected expenses down the line.
8. Excellent Customer Support: The relationship with clients doesn't end post-installation. Amaze Technologies offers exceptional post-installation support, ensuring any issues or queries are addressed promptly and efficiently.
9. Positive Client Feedback: The testimony to the company's excellence lies in the positive feedback received from a plethora of satisfied clients. This not only speaks of their technical expertise but also their commitment to ensuring client satisfaction.
10. Strategic Location: Based in Dubai& Abu Dhabi, Amaze Technologies is strategically located to serve both local and international clients. Our understanding of the local market dynamics, combined with global best practices, positions them as the go-to structured cabling company in the region.
Discover Enhanced Network Connectivity
Unlock a world of seamless connectivity with Amaze Technologies. Our enhanced network solutions are designed to cater your network functionalities to new heights. Whether you're an individual seeking fast internet at home or a business looking to optimize your operations, we are here to cater to your needs. With Amaze Technologies, you can discover nothing less than enhanced network connectivity. It transforms the way you connect, communicate, and collaborate. Say goodbye to lag, dropped calls, and slow downloads, and say hello to a future where your network always keeps pace with your ambitions. 
Amaze Technologies is your trusted partner for enhancing your network connectivity. Join us on this journey to discover a future where connectivity is nothing short of amazing. Discover the difference today and experience connectivity like never before.
Why Your Business Needs A Structured Cabling service?
A structured cabling service system is a type of digital infrastructure used in businesses and buildings that provides a comprehensive telecommunications solution for voice, data, and multimedia services.
Consistency: Instead of dealing with a maze of different cables and connections for different tasks, everything runs off the same network, making it easier to understand and manage.

Scalability: Structured cabling service systems are designed to be flexible, allowing for easy expansion or modification. This means that as your business grows, your network can grow with it without significant overhauls.

Optimized Performance: High-quality structured cabling reduces interference and boosts data transmission speeds. This ensures smoother performance and reduces network downtimes.

Future-Proofing: As a reputed structure cabling company in Dubai, we should Properly implement structured cabling service systems. It can support future applications and hardware additions, such as multimedia or video conferencing tools, without significant upgrades.

Simplified Management: it becomes easier to identify and rectify issues when the system is a structured one. You won't need a large team to keep your network up and running. And also, making system additions, moves, or changes becomes much simpler with a structured approach.

Cost-Effective: While the initial investment may seem higher than traditional point-to-point cabling, structured cabling often proves to be more cost-effective in the long run. Reduced maintenance needs, fewer disruptions, and scalable solutions can lead to significant long-term savings.

Improved Aesthetics: Rather than having wires and cables running haphazardly, structured cabling offers a cleaner, more organized look. This is not just pleasing to the eye, but also makes maintenance and troubleshooting more straightforward.

Enhanced Flexibility: Structured cabling systems can support multiple hardware types and systems without being tied to a particular vendor or set of equipment.

Reduction in Downtime: Disruptions often arise due to the complexities of unstructured cabling systems. By having a structured approach, the chances of human error, mismanagement, or issues due to mixed types of data and voice cables are reduced, leading to fewer network outages.